Santa Barbara Lifestyle
Santa Barbara —
Approximately ten thousand years ago, the Chumash Indians settled in the Santa Barbara Coastal region. Rich in culture and innovative in architecture, they were a tribe that thrived in the microclimates of Santa Barbara and were one of the few Native American cultures governed by a woman.
Juan Rodriquez Cabrillo, a Portuguese navigator, was the first European to set foot on the California coast, claiming it for Spain in 1542. On the feast day of Saint Barbara, the Spanish explorer Sebastian Vizcanino's ship anchored offshore and the ship's priest appropriately named both the channel and shoreline in honor of the patron saint of mariners.
The construction of Stearns Wharf in 1871 changed Santa Barbara's development drastically into a real seaport. In addition to access by boat, the railroad was arriving and depots were created first in Montecito, than later moved to Cabrillo Boulevard along the waterfront. With access to Santa Barbara made easier, the arrival of barons of industry and socialites brought nouveau ideals and hence, the development of elegant hotels, taverns, and opera houses. Along with the wonderful climate, these developments enhanced the City's reputation as a hot spot and thriving cultural center. Today's Lobero Theater stands on the same site as the original opera house, the first of its kind in Southern California.
State Street, a seven-mile boulevard that starts at Stearns Wharf and winds its way toward the mountains before it veers northwest, more or less defines the city's center. In fact, it is at the intersection of State and Carrillo streets where Captain Salisbury Haley hammered an iron stake in the ground in 1850, declaring it official that this was to be the city's future midtown area.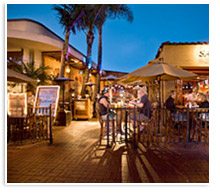 Sometimes dubbed the American Riviera, Santa Barbara is defined as much by its beaches as its historic landmarks, good restaurants, red-tile rooftops, and celebrity citizens. These coastal stretches are beautiful and numerous, and each one is known for a specific attribute. East Beach is known for year round volleyball activity; Leadbetter for its windsurfing and surfing, lush greenbelt with picnic tables and barbeque pits; Arroyo Burro Beach with an on-the-sand restaurant, Butterfly Beach with mating Monarchs and schools of Dolphins, Miramar Beach, and the West Beach between Stearns Wharf and East Beach for sunbathers and the weekend arts and crafts display.
Montecito —
Home to wealthy industry icons, jet-setters, the nouveau riche, and famous celebrities, Montecito remains one of the most spectacular places to reside in the world. Hidden behind its hedges and gates are some of the most beautiful estates you will ever see, steeped in history and tradition.
While it's true that Montecito, which means "little mountain" in Spanish, has attracted the privileged class for more than a century, its beginnings were a little more humble. Montecito was originally inhabited by Chumash Indians who farmed the lush landscape and fished local creeks. The woods swarmed with grizzly bears and wolf packs and to the Spaniards, who were thinking about building a mission there, appeared too far from the protection of the Presidio.
Another fabulous attraction to Montecito is walking and biking distance to the beach, in particular Butterfly Beach. Every year Monarch butterflies gather to mate at the aptly named spot and can be so thick, they resemble tree trunks. Situated beneath the world class Biltmore Hotel with its beach and swim club, the Coral Casino, Butterfly Beach is pet friendly and one of the most enjoyable to walk. On warm evenings, one can observe schools of dolphins arcing through the water and see pelicans diving into the green ocean and coming up with fish. Truly, a spectacle of paradise.
Montecito has two shopping areas, the Upper Village at East Valley and San Ysidro Roads, and the Lower Village, along Coast Village Road. Many excellent restaurants can be found as well as interesting boutiques and amenities. There are excellent public and private schools, a tennis club and 3 golf clubs: Birnam Wood, Valley Club, and the Montecito Country Club.
For those who can afford to live in Montecito, life is as grand as you want to make it.
Hope Ranch —
Thomas W. Hope emigrated from Meath, Ireland, to become a cowboy in Texas at the time of the massacre at the Alamo. Moving westward by wagon train at the age of 29, Hope passed through Santa Barbara on his way to San Francisco, where he met and married Delia Fox. They operated a rooming house to generate enough money to purchase 2000 sheep, which Hope then drove down to Santa Barbara. He leased land from the Cieneguitas Indians for his sheep to graze on. Shortly afterward, Hope had a golden opportunity. He borrowed $8,000 from a fellow Irishman to purchase the entire Las Positas y Calera Rancho from a widow who could no longer manage the 6,000 acre ranch. From that time on, it was known as Hope's Ranch. When wool prices skyrocketed during the Civil War, Hope became a very rich man. Although he never learned to read or write, because of his good fortune he lived quite affluently. With a love for horses and racing he laid out the first flat racing course in California for trotters and pacers, with hurdle courses surrounding Laguna Blanca, the fresh-water lake also known as the White Lake. The equestrian tone of today's Hope Ranch was undoubtedly set by Hope's pioneering. The Hope House was built in 1875, still exists today and serves as a historic landmark, as well as a private residence.
Many of the amenities offered only to Hope Ranch residents began in 1930 during the depression. They included cabanas for the private beach club fronting the Ranch, a polo field, archery range, skeet-shooting facility, tennis courts and 30 miles of bridle trails. In addition, a luxurious clubhouse was erected on "la cumbre", or the summit of a hill east of Laguna Blanca, giving the name La Cumbre Golf and Country Club to the 18-hole course. Strictly private, the club remains a hub of Hope Ranch social life today.
Residents of Hope Ranch are a combination of middle and upper class families, as well as affluent socialites and industry barons. One of the lures of families attracted to Hope Ranch is Laguna Blanca School. One of the most respected educational institutions in California, students are educated from kindergarten through 12th grade, and its graduates are courted by some of the top universities in the nation.
With residents zealously guarding their anonymity, Hope Ranch remains a place of hidden mansions, luxurious yet comfortable lifestyles, beach parties, and a horse owner's paradise.
Santa Ynez Valley Lifestyle
The Santa Ynez Valley offers an exceptional mingling of a relaxed countryside paradise and an exclusive luxury lifestyle. Its many wineries, luxurious hotels and homes, fine equestrian trails and facilities, and dedication to its rich history make the Santa Ynez Valley a one-of-a-kind destination.
Santa Ynez —
Just 35 miles north of Santa Barbara, past scenic Lake Cachuma and tucked away amidst the Santa Ynez and San Rafael mountain ranges, the Santa Ynez Valley is a scenic California treasure not to be missed. Between the valley's verdant landscape, expansive vineyard properties, magnificent estates, and sprawling equestrian ranches, this area offers a wide variety of ways to enjoy incredible luxury lifestyle opportunities.
The Santa Ynez Valley is celebrated for its world-class vineyards and wineries. Boasting the greatest concentration of wineries in Santa Barbara County, this region produces some of the finest wines in the world. Most of the wineries in the Santa Ynez Valley are owned and operated by families or individuals, allowing for a more personalized, intimate experience with the added benefit of supporting the local economy and small businesses.
However, the rich agriculture in the Santa Ynez Valley is certainly not limited to vineyards. There is ample opportunity to spend your afternoons strolling through apple and walnut orchards as well as berry and lavender farms while enjoying breathtaking views of the surrounding mountain ranges. Many of these orchards will also allow you to pick your own – it doesn't get fresher than this!
The township of Santa Ynez was originally an area inhabited by the Chumash Indians, who had lived in the valley long before the discovery of the Americas. The Chumash people are known for their beautiful, elaborate cave paintings dating back hundreds and hundreds of years, which have been carefully preserved. In the mid-18th-century, farmers and ranchers from various parts of the country began to settle in the area and the town was divided into ranches and some of the earliest local orchards and vineyards.
Today, Santa Ynez still has an Old West feel while simultaneously hosting AAA-four diamond rated hotels and fine dining. Enjoy cycling tours through the vineyards or simply take in the unspoiled beauty of the valley from any of the valley's luxury lodgings. For the more adventurous, glider rides are offered at the Santa Ynez airport. From high above the valley, one can truly appreciate the splendor of the lush, rolling hills and mountains and look down upon the fruitful vineyards and orchards below.
Solvang —
Within the Santa Ynez Valley lies the historic city of Solvang (Danish for "sunny fields"), which was built up around the Mission Santa Inès in the early 1900s by a group of Danes seeking a reprise from harsh Midwestern winters. In this little town, it's easy to feel as if you've been whisked away to quaint Northern Europe – so authentic is this town that it has hosted visits from Danish royalty. Each year in September, residents and visitors from around the world celebrate Solvang's history during Danish Days. The town's dedication to its rich Danish roots is evident in its Danish Provincial style architecture, authentic dining options, festivals, and of course its four windmills!
Just outside of downtown Solvang is the luxurious Alisal Guest Ranch and Resort, an exceptional hideaway with the romantic charm of the Old West, steeped in history and tradition. It has attracted guests such as Clark Gable, who married Lady Silvia in the old library and Doris Day, who visited regularly. Offering a world-class golf course, horseback riding, tennis, fishing, first-class accommodations, spa services, and the finest dining, The Alisal remains a well-kept secret among distinguished celebrities and luxury vacationers.
Ballard —
Another special point of interest in the Santa Ynez Valley is the tiny town of Ballard, founded in 1880 at the location of a Wells Fargo stage line station. This sleepy town is a prized residential area - the combination of small town ambiance with all the amenities of an upscale bedroom community makes it truly one-of-a-kind.
Ballard is also home to Santa Barbara County's oldest school. The Ballard School is an iconic red schoolhouse which has been holding classes since 1883. This school perfectly captures the essence of this charming rural town. Within walking distance of the school is The Ballard Inn, an ideal country getaway. Each room is unique and designed to reflect Santa Ynez's history, with authentic antique furniture and a gorgeous front porch which looks out over a lush garden lined with a white picket fence. The Inn hosts its own wine tasting room, featuring the best wines produced in the valley.
Los Olivos —
Los Olivos, a Victorian-style retreat destination, was named for a nearby ranch consisting of over 5,000 olive trees at the time of its founding in 1887. Enjoy an equestrian adventure by taking horseback rides on any of the numerous trails leading through the stunning Los Olivos countryside and award-winning vineyards, and complete your afternoon by indulging in an exclusive wine tasting.
While in Los Olivos, don't miss the opportunity to dine at Mattei's Tavern, originally opened in 1886 by Felix Mattei as an inn and restaurant for stagecoach travelers. Having survived the switch from stagecoach to rail, the emergence of the motorcar, world wars, prohibition, and national economic ups and downs, the restaurant is a distinctive and resilient slice of history. The building itself consists of a series of authentic Old West rooms and gardens, creating the charming atmosphere of a bygone era. Today, the tavern serves time-honored dishes made from scratch and an extensive selection of fine regional wines.